CMH:I staff members
Ministry Leader: Lydia Monds
Operations Executive: Catherine Smith
Lydia Monds
As Ministry Leader, Lydia encourages and facilitates a healing ministry for parishes with no previous involvement, and will encourage those across the Church who already work with healing ministry.
Lydia holds a Masters in Intercultural Theology and Interreligious Studies and a Higher Diploma in Education. Recently, she qualified as a Forest School Leader, which focuses on engaging people in nature and all the benefits that brings. Lydia worked as the Children's Ministry development officer for the Sunday School Society for eight years. She and the team focused on supporting children's leaders and families in their own mental health, faith and wellbeing, particularly since the Pandemic. She was also the Education Advisor to the Church of Ireland Bishops' Appeal for over 11 years. Most recently in this role she collaborated with the Mothers' Union and Tearfund to design and run a parish training titled 'Equipping the Church to take action and end domestic abuse'. Lydia is married to John and they have two sons, Cillian and Oisín. Contact Lydia at lydia@ministryofhealing.ie to talk about quiet days, retreats, healing services, prayer groups, talks, and more.
Lydia says:
"I'm delighted to be part of the Church's Ministry of Healing.  More than ever, I believe this ministry is needed and has a valuable contribution to make and I am excited about being a part of that."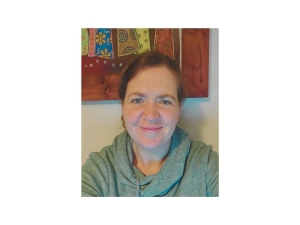 Catherine Smith
Catherine joined CMH:I as its Operations Executive in August 2022. She has 7 years of experience in working for the Church of Ireland with her, having previously held the post of Synod Officer with the Representative Church Body. She has a doctorate in English Literature, and an MA in Irish Writing, as well as a post-graduation qualification in Mediation (Theory and Practice). Catherine is married to Leonard Madden, who is curate-assistant in Limerick City Parish, where they live with their greyhound, Rosie, who has assisted with CMH:I stands at some diocesan synods!
Catherine says: "when I think of Christ's healing, the first thing that comes to my mind is a verse from Matthew's Gospel. Jesus says to his followers, " Come unto me, all ye that labour and are heavy laden, and I will give you rest […] learn of me […] and ye shall find rest unto your souls."
The healing that God offers is indeed a rest in our souls when we are exhausted, hurt, grieving, disillusioned, lonely, despairing, and angry. I think we all feel a longing in our souls for rest – whether that rest is being with people who understand us, being creative and having fun, chatting with friends, being silent, being in nature, being in church, or listening to music. God speaks to us in all these ways, and more."
Contact Catherine at catherine@ministryofhealing.ie if you want to ask more about CMH:I and how it works, or to talk about what it can offer you, your parish, or your organisation. Or just get in touch to say hello or give us some ideas for our work! We love hearing from people.