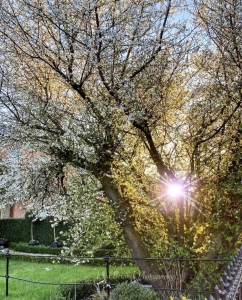 "The sacrifice acceptable to God is a broken spirit; a broken and contrite heart, O God, you will not despise." Psalm 51: 17
These days many people are struggling. Some struggles are common for we all share the human condition. And yet there are struggles that are unique to each individual, because we cannot know what each person is dealing with, unless they tell us about it. I cannot know what you had to deal with in the past year nor what you had to overcome in order to come to this point. But God does. God knows our hearts.
Normally in Lent we say that we join Jesus in the desert. Having gone through a number of lockdowns since March 2020, and being in lockdown – at least in Ireland – still, the image of a desert may not be as inspiring. We have had our shares of the desert moments throughout the year.
Lent also coincides with Spring in Ireland. It order to burst into bloom, flower-seeds need to rest in the dark of the soil, let go of what they know, and embark on the journey of growth. As they do that, gradually small shoots come out on the surface, and with the support of sunshine, water and nutrients, they grow into beautiful flowers.
Can you notice areas in your life that are undergoing a similar journey?
I like to think of Isaiah 61 as we start Lent,
"The Spirit of the Lord is upon me, because the Lord has anointed me to proclaim good need to the poor. He has sent me….. to comfort all who mourn, and provide for those who grieve in Zion – to bestow on them a crown of beauty instead of ashes, the oil of joy instead of mourning, and a garment of praise instead of a spirit of despair."
Jesus is the one who has been anointed & who exchanges the difficult realities into those where His glory shines forth. This is especially true for the Holy Week, so when we come to it this year, let us allow Him to bring healing into our lives and to lead us through our difficulties, towards His glory.
Until then, it may be helpful to look at this Lent this way: not that we are joining Jesus in the desert but instead He is joining us in our own deserts. And His presence makes all the difference.
© Dr Iva Beranek
https://ministryofhealing.ie/wp-content/uploads/2021/03/tree-glory.jpg
931
750
CMH_Admin2020
https://ministryofhealing.ie/wp-content/uploads/2020/09/logo-web.png
CMH_Admin2020
2021-03-04 09:59:37
2021-03-04 09:59:37
Lent, when Jesus enters our desert